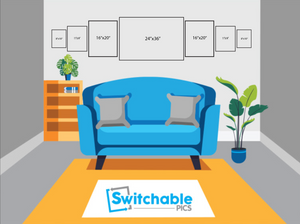 Buy in Bulk & SAVE
This bundle has 7 beautifully versatile handmade wood frames. This bundle also INCLUDES 7 pictures you can upload and crop to just what you want.
Perfect size for those beautiful faces, places and things you love!
When you get this, you get the best! All the sizes! So much fun!
This bundle includes (1) 24"x26", (2) 16"x20", (2) 11"x14", (2)8"x10"
*Frames are designed to show ~.25 inch of the background color.